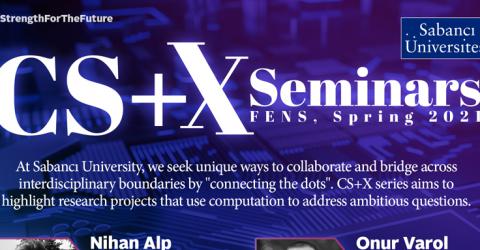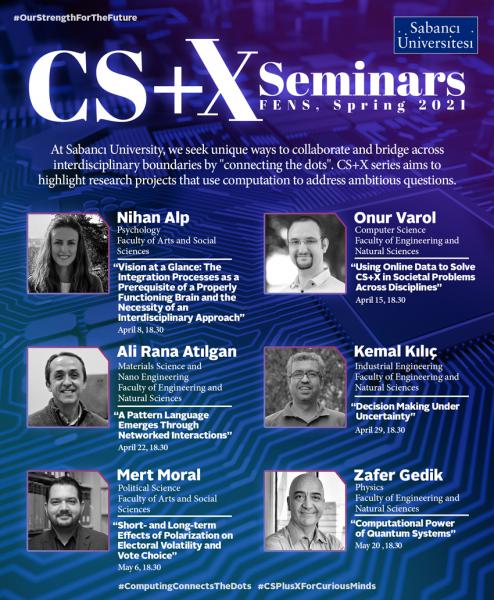 Vision at a glance: the integration processes as a prerequisite of a properly functioning brain and the necessity of an interdisciplinary approach
Abstract: The brain has to integrate information coming from different times and spaces into a structurally and temporally coherent whole to attribute meaning to an object and understand its functionality. This is not only vital within the same sensory modality (only in the visual system) or same hemisphere but also vital across different sensory modalities and hemispheres. Even if a tiny part of this process is damaged, the world becomes a disconcerting jumble of unconnected events. To pinpoint underlying neural correlates of this integration process, one needs to explicitly extract integration from other ongoing processes. In this talk, I will explain a scientific approach and studies that improve our understanding of underlying neural correlates of integration processes by addressing some of the techniques we borrow from engineering.
Bio: Nihan Alp holds a BA in psychology, an MSc in cognitive neuroscience, and a Ph.D. in psychology. Before joining Sabancı University, she has worked in various labs with the pioneers in the field. Her research interest lies in the midst of a low and high-level vision (grouping, figure-ground organization, depth, shape, and motion perception), but also stretching out to high-level vision (object recognition, social interaction). In addition to classical methodological approaches such as psychophysics and neuroimaging, she also uses the "frequency tagging technique" as a way of measuring integration processes.
Zoom link: https://sabanciuniv.zoom.us/j/99140679713
Using online data to solve CS+X in societal problems across disciplines
Abstract: We are living in a data-rich world, and our experiences leave digital footprints on various systems. Online conversations, wellness devices, content produced in different forms provides valuable information to study individual behaviors and population dynamics. Using computational techniques and available information, we can study important societal problems, address existing theories and hypotheses using data-driven approaches, and provide policymaking recommendations. In this talk, I will present two studies both observe online social media but address different problems: manipulation of online conversations and characterization of minute-level emotional dynamics. Both of these studies involve studying human behavior using tools of network science and machine learning. I want to share how knowledge in different disciplines is fundamental to design the research questions and interpret the outcomes.
Bio: Dr. Onur Varol is an Assistant Professor at the Sabanci University Faculty of Engineering and Natural Sciences and Principal Investigator at the VIRAL Lab. His research focuses on developing techniques to analyze online behaviors to improve individual well-being and address societal problems using online data. Prior to joining Sabanci University, he was a postdoctoral researcher at Northeastern University at the Center for Complex Network Research. He completed his PhD in Informatics at Indiana University, Bloomington (USA). His thesis focuses on the analysis of manipulation and threats on social media and he was awarded the 2018 University Distinguished Ph.D. Dissertation Award. He has developed a system called Botometer to detect social bots on Twitter and his team ranked top 3 worldwide at the 2015 DARPA Bot Detection Challenge. Efforts on studying social bots yield publications on prestigious venues such as International Conference of Web and Social Media (ICWSM), Nature Communications, World Wide Web (WWW) conference, and Communications of the ACM.
Zoom link: https://sabanciuniv.zoom.us/j/96096860332
A pattern language emerges through networked interactions
Abstract: TBD
Zoom link: https://sabanciuniv.zoom.us/j/94398910361
Decision Making Under Uncertainty
Abstract: Experts often rely on their intuitions while making critical decisions. However, empirical research conducted in wide range of disciplines demonstrate that, decisions based on analytical models outperforms the intuition based decisions. There are variety of reasons why human judgement fails, e.g., bounded rationality, low dimensional brain, decision making heuristics and biases, etc. On the other hand, the analytical models are all based on various assumptions and unfortunately real life often doesn't fit to the framework of these models. Particularly the uncertainty in the analytical models is considered as risk (i.e., known unknowns) but in reality we usually face unknown unknowns. Thus it is not hard to deduce that both ends of the spectrum (pure intuition and pure data driven analytical models) have their weaknesses. At this point, a disciplined intuition framework suggested by Daniel Kahneman which is a compromise between the two extremes seems to be a promising way to make decisions under uncertainty. Data Analytics is a process where the overall objective is creating value from data. The process itself is iterative and requires extensive amount of domain expertise while building models that satisfy the required performance. The data analytics team continuously make decisions under uncertainty throughout the process and face unknown unknowns. In this talk, we will discuss how data analytics teams benefit from the disciplined intuition framework which is used mostly by the experts of decision making under uncertainty, namely the entrepreneurs.
Bio: Dr. Kemal Kilic received the B.Sc. degree from the Electronics Engineering Department, Bogazici University, Istanbul, Turkey, M.Sc. degree from Industrial Engineering Department, Bilkent University, Ankara, Turkey and PhD degree from the Mechanical and Industrial Engineering Department, University of Toronto, Canada. He is currently an associate professor in the Faculty of Engineering and Natural Sciences, Sabanci University, Istanbul, Turkey. His current research and teaching focus includes data analytics, innovation management, digital transformation and decision making. Dr. Kilic served as Board Member in Information Technologies Panel of the Scientific and Technological Research Council of Turkey (2014-2015), Panel Board Member of NATO System Analysis and Studies (SAS) Group (2015-2018) and Member-at-Large of NATO SAS Panel (2018-…). He has been heavily involved in development of various industrial education and leadership development programmes for leading groups and conglomerates of Turkey regarding to digital transformation and data analytics at the Executive Development Unit (EDU) of Sabanci University.
Zoom link: https://sabanciuniv.zoom.us/j/96604065635
Short- and Long-term Effects of Polarization on Electoral Volatility and Vote Choice
Abstract: Employing a novel and comprehensive dataset on the outcomes of the presidential, general, and municipality elections between 2014 and 2019 in Turkey, the first study tests whether growing geographical polarization at the neighborhood (village) level decreases the vote transitions among the Turkish political parties and among their presidential and mayoral candidates over time. Differently from the first study focusing on a fragmented party system with proportional representation, the second study looks into the two-party system in the US and employs individual-level data from a series of nationally representative survey studies. Individual-level data enable us to take account of American voters' changing partisan, policy and, ideological attitudes in a longer time period, and model individual behavior using a novel estimator -- constrained choice conditional logistic regression (Moral and Zhirnov 2018). The CCCL model allows for modeling individual voters' choice-set compositions and assessing how those vary over time as a function of high and rapidly increasing elite, party, and partisan polarization in the US since the 1980s.
Bio: Mert Moral received his Ph.D. in political science at the State University of New York at Binghamton, United States, in 2017. He is assistant professor of political science at Sabancı University, Istanbul. His research interests include voting behavior, political participation, democratic representation, political polarization, political and survey methodology, and comparative and Turkish politics. His research has been published at, among others, American Journal of Political Science, Political Behavior, Political Research Quarterly, and Electoral Studies. Among others, Dr. Moral is the recipient of the Outstanding Young Scientist awards of the Science Academy, Turkey (BAGEP, 2018), and Turkish Academy of Sciences (TÜBA-GEBİP, 2020), and co-principal investigator of the Turkish Election Study (2018) and Istanbul Metropolitan Municipality Survey Study (2019).
Zoom link: https://sabanciuniv.zoom.us/j/94632062037
Computational Power of Quantum Systems
Abstract: In this talk, after a brief presentation of basic properties of quantum systems, simple examples of quantum algorithms will be discussed. Some experimental demonstrations will be explained.
Bio: Zafer Gedik is a graduate of the Middle East Technical University, Physics Department. During his M.S. and Ph.D. studies at Bilkent University, he has visited the IBM Zurich Research Laboratory several times. After he completed his Ph.D. in 1992, he was appointed as faculty member at Bilkent University. He spent a year at Johns Hopkins University. He was visiting scientist at CNR Istituto di Cibernetica, Naples, Italy in 1997 and National Institute of Standards and Technology (NIST), Gaithersburg MD, USA in 2002. He moved from Bilkent to Sabancı University in 2002. In 1996, he received the Scientific and Technical Research Council of Turkey (TÜBİTAK) Incentive Award. He is the recipient of the Scientia Europaea Award, Institut de France, Academie des Sciences (1998), METU Prof. Dr. Mustafa N. Parlar Education and Research Foundation, Research Incentive Award (2001), and the Turkish Academy of Sciences, TÜBA, Young Scientist Award (2002). His current research areas are quantum information theory, quantum computation and foundations of quantum mechanics. He is an Editorial Board Member of Nature Scientific Reports. He is the Turkish member of the European Quantum Flagship - Quantum Community Network (QCN).
Zoom link: https://sabanciuniv.zoom.us/j/91874905450